Six killed by female shooter in Tennessee
The names of the Six people including three children killed in a school shooting in Nashville, Tennessee, according to local authorities has been revealed.
They are;
9 year old Evelyn Dieckhaus
9 year old Hallie Scruggs
9 year old William Kinney
61 year old Cynthia Peak
60 year old Katherine Koonce
61 year old Mike Hill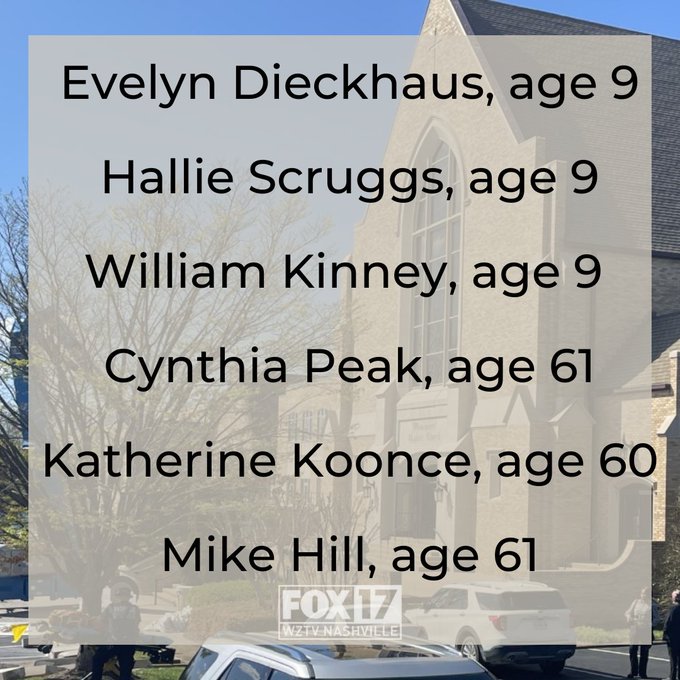 The attack took place on Monday at a private Christian school which teaches children up to around 12 years old.
Nashville police said they engaged and killed the shooter, a 28-year-old woman who may have been a former student.
Mass shootings committed by women are far more rare than those committed by men, according to crime statistics.
The dead include three children, three staff members and the shooter, officials said in a news conference.
The suspect was carrying two "assault-type" rifles and at least one pistol, which has been recovered at the scene. Her identity remains unclear.
The Covenant School in Nashville, where the incident took place, has about 200 students, the youngest of them pre-school age. Local media reported that it implemented an "active shooter" programme in 2022.
Nashville Police Chief John Drake said initial findings indicate the attacker may have been a former student at the school. He said the findings are based on "clues" found inside a nearby parked car.
One police officer was wounded by cut glass while responding to the incident, police said. Two officers who entered the building went towards the sound of gunfire and encountered the shooter on the school's second floor, where they fatally shot her.
Disclaimer
The provided information is intended for general awareness and may not be entirely accurate or up-to-date. The post disclaims any warranties regarding the completeness, accuracy, or reliability of the content, services, or graphics on the website. It advises caution when using the information for any purpose.